661 North 7th Street · Lafayette, IN 47901 · (765) 742-2113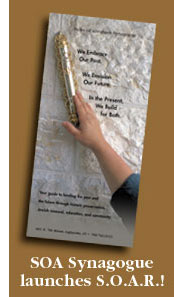 We Embrace Our Past.
We Envision Our Future.
In the Present, We Build for Both.
The congregants of Sons of Abraham Synagogue welcome you with a heartfelt "shalom." Sons of Abraham, founded in 1889, is a traditional congregation that serves the Lafayette and West Lafayette communities in northwest Indiana.
We are proud of our history , and our synagogue building dates from 1916. Our members come from all walks of life, including Purdue University academia, business, and professional work.
If you are visiting our Web site for the first time, you will discover that our shul is in the midst of some exciting activities, including S.O.A.R. Please feel free to learn more about us from this site or by contacting us directly. Newcomers to the community are always welcome at services or at any of the other events that will be promoted here on the site.
We welcome potential new Sons of Abraham members who are considering relocating here. Why consider moving to Lafayette, Indiana? The cost of living is reasonable, the job market is particularly vital, and our pleasant community has been named among the best places to live in the U.S. Do consider joining us!